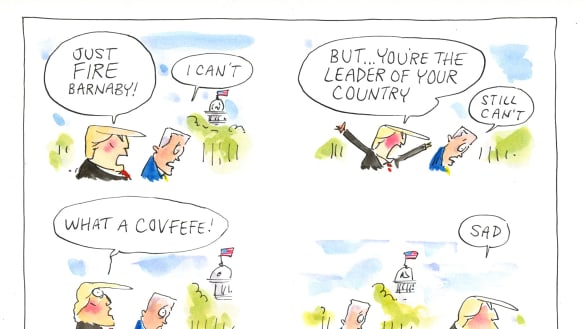 Proof positive Andrew Bolt it's not Turnbull's fault but partners like this and Joyce and media like yours that have soured Australia. However, they haven't raised Abbott, have they?
Controversial Queensland MP George Christensen has been reported to police after posing with a handgun on social media.On Saturday, Mr Christensen posted a photo of himself aiming a gun on Facebook along with a post saying, "You gotta ask yourself, do you feel lucky, greenie punks?"
EITHER JOYCE OR TURNBULL MUST GO
Column
Either Malcolm Turnbull or Barnaby Joyce must quit to save the sinking Turnbull Government. It cannot be taken seriously while both are still there, given what they said about each other last week. Normally, a deputy should quit after a brawl with his boss, but why should Joyce go to save a Prime Minister who can't save himself?
I wouldn't be the only conservative presenter on TV getting an avalanche of emails from viewers furious that I've damned the Nationals leader."
LIBERALS LIKE TURNBULL'S BONK BAN LEAST
Here is a curious fact about the support for Malcolm Turnbull's new nanny-state ban on Ministers having sex with staff. According to Newspoll, Liberal voters like it least and Labor voters like it most. Isn't that a metaphor for Turnbull's leadership?